We're excited to announce a major expansion of our account based platform with the addition of ​built-in​ ​company and contact insights​ ​powered by​ ​InsideView,​ ​the​ ​leader​ ​in​ ​Targeting Intelligence.​ ​This​ ​powerful​ ​new​ ​upgrade embeds​ ​continuously refreshed ​intelligence​ on a​bout​​ ​30+​ ​million​ ​contacts​ ​and​ ​13+ million​ ​companies​ from​ ​over​ ​40,000​ ​data​ ​sources​ ​directly​ ​into​ ​GleanView.
With​ ​this​ ​new​ ​natively​ ​embedded​ ​data​ ​set,​ ​your sales​ ​and​ ​marketing​ ​teams​ ​can: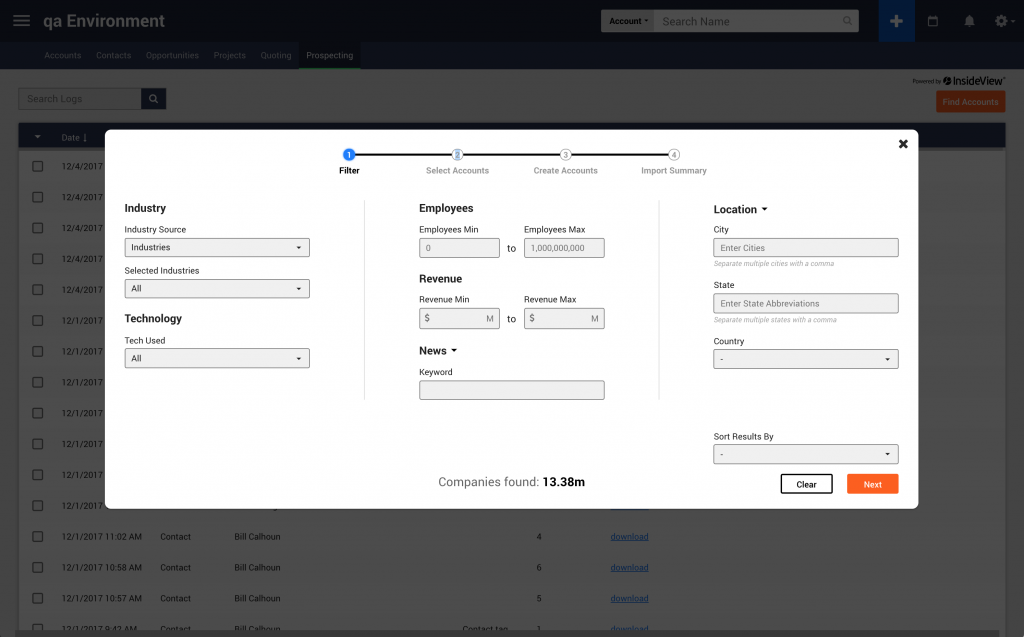 Build targeted account lists​​ ​that​ ​match​ ​their​ ideal​ ​customer​ ​profile​ ​using​ ​rich​ ​filters​ ​such​ ​as​ ​employee count,​ ​location,​ ​annual​ ​revenue,​ ​industry​ ​codes,​ ​keywords,​ ​technology​ ​profiles, ​and​ ​business news​ triggers.​ ​These​ ​accounts​ ​can​ ​then​ ​be​ ​jointly​ ​targeted​ ​by​ ​sales​ ​and​ ​marketing​ ​using​ ​GleanView. is much darker than the other bullet points.

Build targeted contact lists using​ ​filters​ ​like​ ​job​ ​function,​ ​​title,​ ​and location.​ ​​ ​Turnover​ ​can​ ​make​ ​finding​ ​the​ ​right​ ​contact​ ​that​ ​matches​ ​the​ ​ideal​ ​persona​ ​at​ ​a​ ​target account​ ​difficult.​ ​​ ​With​ ​this​ ​new​ intelligence,​ ​teams​ ​can​ ​choose​ ​the​ ​best​ ​person​ ​to​ ​target​ ​and​ ​get complete​ ​contact​ ​information​ ​including​ ​phone,​ ​email and​ ​address.

Enrich​ ​existing​ ​accounts​ ​and​ ​contacts​​ ​with​ ​up​ ​to​ ​35​ ​company​ ​data​ ​points​ ​and​ ​18​ ​contact data​ ​points.​ ​​ ​By​ ​giving​ ​teams​ ​the​ ​full​ ​demographic and ​technographic data,​ ​and​ ​latest​ ​news​ ​on​ ​all existing​ ​and​ ​new​ ​accounts,​ ​they​ ​can​ ​choose​ ​the​ ​best​ ​ones​ ​to​ ​focus​ ​on and discover the best time to reach out.
GleanView's account based platform plus InsideView's targeting intelligence is the perfect combination for account based success.  Sales, marketing and service teams are all aligned around a common account view from lead to repeat customer.  Everything from building highly targeted lists to executing multi-channel campaigns at scale to optimizing account level engagement can be done in one unified platform.