Is your team is struggling to get quotes done accurately and quickly? It might be time to consider a CPQ software solution. CPQ stands for Configure-Price-Quote. It refers to a category of quoting software that is designed to manage complex product or service configurations and just about any type of pricing you need. Good CPQ software also helps your team automate or guide pricing and product selection, resulting in faster quote turnaround times and more closed deals.
– Bill Calhoun CEO, GleanQuote.com
If any of the following statements apply to your team, you should consider a CPQ software solution . . .
1 – You have configurable products/services
Do you offer any level of customization for your products or services? This could range from a simple color selection all the way up to selecting individual components for a computer server or a large industrial machine. These customizations might even drive price changes, or you could have a decision tree structure that determines which option is available depending on previous options selected.
2 – You have bundles or packages
Do you offer discounted pricing if a customer purchases a group of items together or always offer certain items as an up-sell or cross-sell? Bundles can be groups of simple products or can be groups of configured products that can be customized within the bundle.
3 – You have complex pricing
Do your items have conditional pricing that depends on quantity, customer type, calculations, or any combination of these things? Companies with complex pricing sometimes resort to using pricing spreadsheets because that's the only tool they know of that can handle the calculations and dependencies for their pricing model.

4 – You have approval rules
Do your quotes need some level of formal approval before sending to a customer? This might be as simple as every quote needs approval or as complex as all quotes over $20,000 for customers in the state of New York that are dealers and have more than 500 employees need to be approved by the sales manager and the partner manager.
5 – You have discounting rules
Do you have discount limits for your sales team? Maybe you want to limit discounting for new sales reps to 10% and give experienced sales reps more latitude with 20%. Or you might have minimum margin requirements for each line item or for the quote total.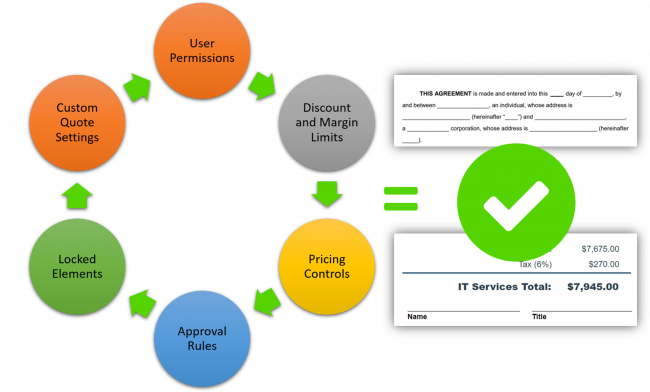 6 – You sell in multiple currencies or languages
Do you have offices in multiple countries or sell internationally? Do you need to send some quotes in English and US dollars and some quotes in Italian and Euros? Your quoting system should allow you to localize your offer.
7 – You have multiple price books
Do you have different prices for different segments of customers, or do you offer different products to different segments? You should have an easy and fool-proof way to apply those products and prices to a particular customer or segment to prevent misquotes.
8 – You have multiple quote templates
Do you create variations of the same quote for different customers? You may have pre-configured quotes for common use cases that get customized for new proposals. These templates may include pre-selected products, or may simply be pre-formatted to look a certain way for different segments of customers.

9 – You have complex quotes
Do you send quotes that contain multiple sections/quote tables, have a mix of recurring and non-recurring pricing, or need multiple custom sub-total fields? You should not be limited in how you present your offer to your customers.
10 – You could use guided selling
Do you have products or services that require specialized knowledge to configure and quote? Your quoting software should guide your sales team into optimal configurations for both your company and your customer.