As sales professionals know all too well, sending out a proposal doesn't guarantee a closed deal. And in many organizations, proposal creation itself is time-consuming, clunky, and tedious. So, what's the solution to making the proposal stage manageable—and maybe even enjoyable—for both salespeople and their clients?
 GleanQuote and HubSpot are improving the experience with a sales enablement integration aimed at simplifying advanced proposals with automated CPQ (configure, price, quote) software.
 GleanQuote allows salespeople to configure and price perfect customer solutions with product and pricing intelligence built-in. The resulting proposal is accurate and informative, with rich graphics, embedded documents and videos, and e-sign capabilities. Combined with HubSpot's ever-powerful CRM, GleanQuote sends deal activity back to HubSpot for use in current and future workflows.
What teams benefit most from this CPQ software addition?
Companies that have customizable products or services, available in a variety of configurations and price points, will see the most improvement after implementing the GleanQuote integration with HubSpot. This setup is especially common in the machinery and equipment industry, the software and technology industry, and the construction contractor industry. 
 While these teams will reap the most rewards, any team that sends quotes and wants to increase proposal success can benefit. According to HubSpot data, the average sales close ratio falls between 15% and 27%, so most sales representatives should see an opportunity for improvement.
3 key benefits of using the GleanQuote integration with HubSpot
Because GleanQuote makes proposals simpler to create and more user-friendly to receive, teams using the HubSpot integration benefit from increased deal size and profit, increased deal win rates and increased deal speed. 
 When you consider the client experience, these benefits make perfect sense. GleanQuote enables clients to receive a proposal soon after their last sales touchpoint, thanks to the ease and automation involved in putting together the quote. Then, product and pricing intelligence ensure the proposal's accuracy and highlight upsell opportunities. Finally, as the client reviews the proposal, all relevant information is available in one place, and the e-sign option removes a potential point of friction.
3 ways to boost proposal success using the GleanQuote integration with HubSpot 
With those benefits in mind, here's how GleanQuote and HubSpot combine to improve the proposal experience from all angles.
1. Configure customizable products and services into solutions for HubSpot CRM deals
In many sales environments, there are some product or service configurations that fit together more effectively than others. GleanQuote allows you to take these preferences into account for each proposal.
 If some products or services are normally sold together in a bundle, you can add that bundle to the HubSpot deal with a bundled price. You can also establish rules to double-check whether the products or services being sold together are compatible with each other. Then, use sales intelligence tools that monitor upsell and cross-sell opportunities to offer the customers good, better, and best options. 
 Many salespeople are already including these strategies in their proposals, but the setup process—and the logic behind it—is entirely manual. Using GleanQuote and HubSpot together, sales representatives can efficiently offer appropriate solutions at scale, eliminating the potential for costly misquoting mistakes.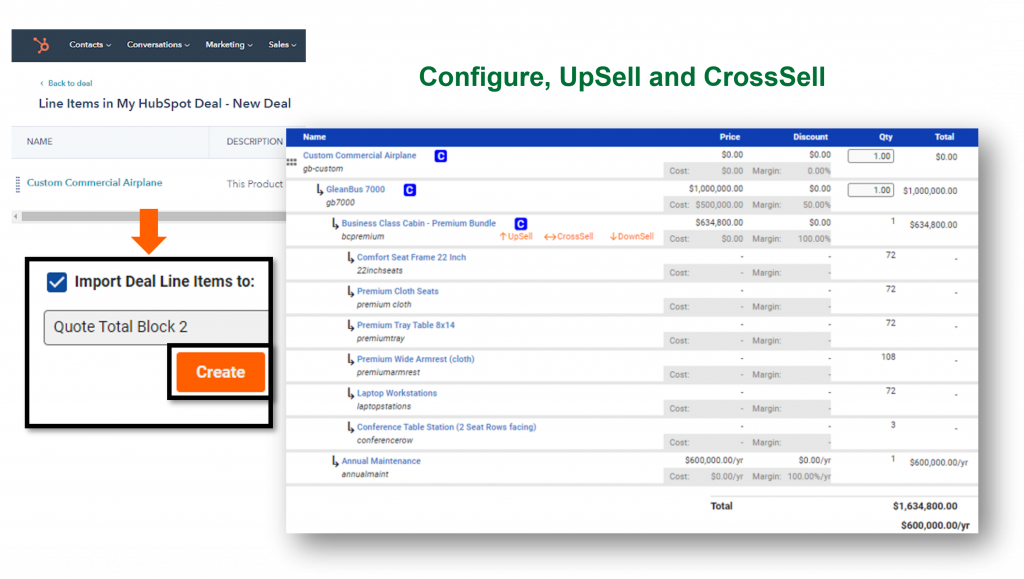 2. Implement custom pricing and discounting strategies with automated rules
Sales teams can also use GleanQuote functionality to implement custom pricing and discounting strategies, including condition, cost-plus, volume, and price book pricing. With pricing approval and discount rules, you can control and standardize discounting options, giving salespeople more flexibility and autonomy.
 With more power in the hands of customer-facing teams, you can harness the value levers in products and services, and maximize deal size and profit margin on every proposal.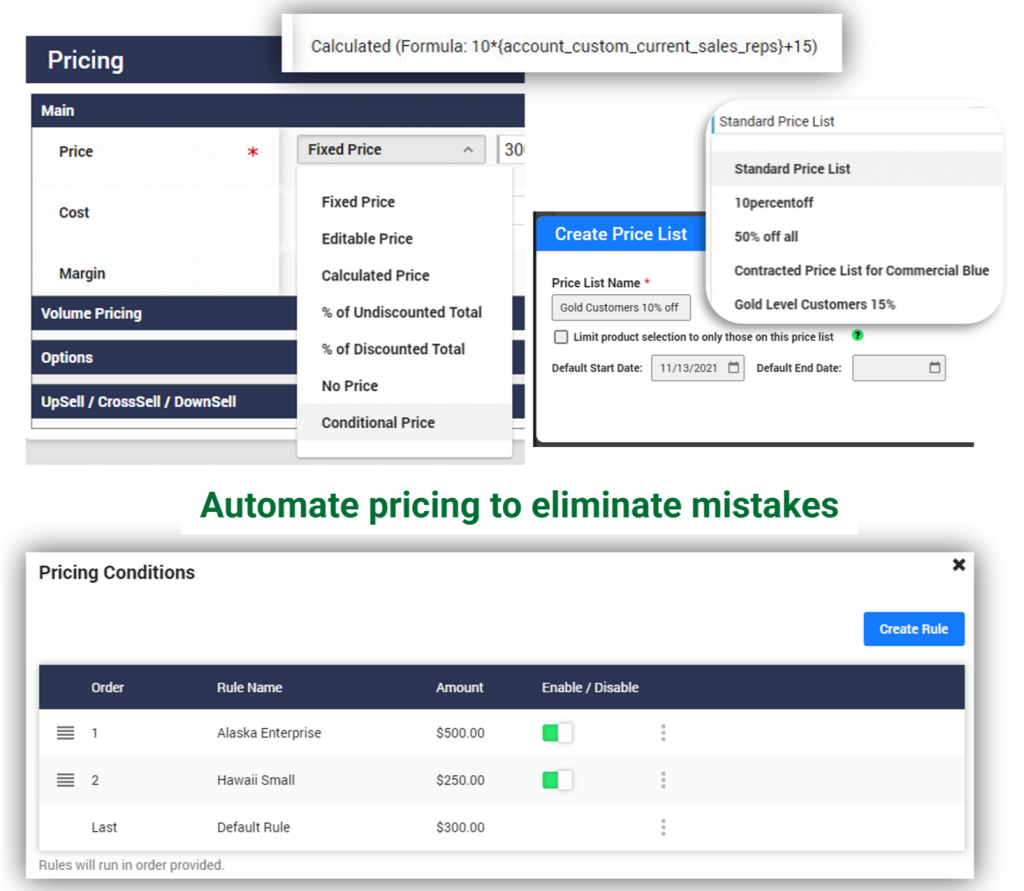 3. Create personalized, interactive proposals with dynamic supporting content
One roadblock in the proposal stage arises when customers need more information than what's contained in the proposal. When they have to track down past emails, review website pages, or download spec sheets, they're more likely to view the proposal itself as a high-effort endeavor. The easier it is for the customer to find the answers to their questions, the more likely they'll make it to the signature stage. 
Using the GleanQuote integration, you can create and send personalized, interactive web page proposals via HubSpot. Without adding complexity to the proposal creation process, customers have access to marketing-approved videos, images, documents, optional add-ons, and the e-signature all in one place. These high-impact proposals, elevated with supporting content tailored to the client's needs and potential questions, help close deals faster and increase win rates.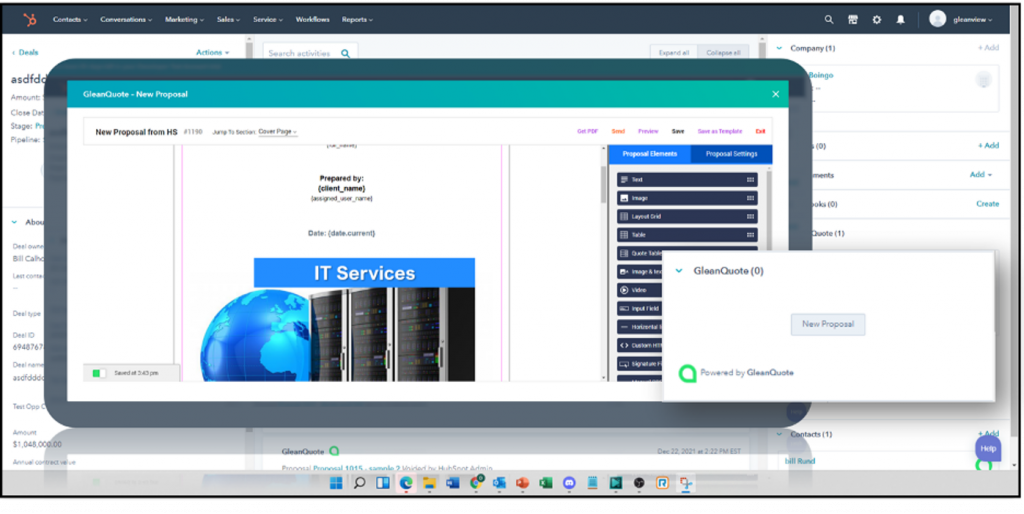 What do users think of the integration in action?
Initial reviews of the GleanQuote integration with HubSpot have been positive, highlighting the integration's impact on the time it takes to create a proposal, ease of use, and the two-way integration that allows HubSpot changes to update automatically in GleanQuote (and vice versa). 
 Kasie Dailey, Marketing Operations Manager at Verte, shared the same sentiment about the impact for her team. She said, "Before GleanQuote, we were creating reports in Word documents that were then transferred to many different leaders in the company for the various rates. Our biggest challenge was that quotes were taking a long time based on the process. GleanQuote was able to help us significantly decrease quote preparation time, which has resulted in more wins."
(Read Full Review and Case Study Here)
Streamline the quoting and proposal process with GleanQuote and HubSpot
If your own proposals are often met with crickets, or your sales teams spend more time gathering materials than connecting with prospects, the GleanQuote integration with HubSpot may be the perfect solution to cross the final sales hurdle. Elevate the proposal experience for your sales reps (and their clients) by setting up the HubSpot CRM integration today.
Author: Katherine Boyarsky
Katherine is the co-founder and CMO of CXD Studio, a creative content marketing agency. She is also a registered nurse and resides in the Boston area.